Some numbers
We're passionate in our work and committed to outstanding quality and measurable results. Here are some of our numbers.
Check our explorer
The wallets are designed for ease-of-use, to make Alephium's technology accessible for all.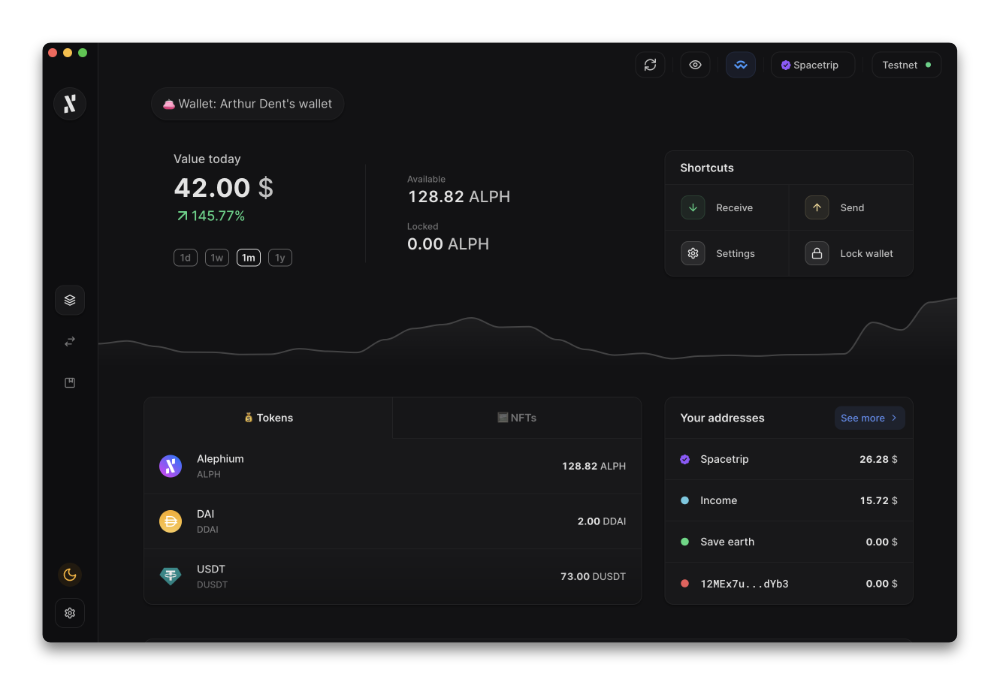 Desktop wallet 🖥️
Alephium's flagship wallet. Ready for everything, from daily management tasks to smart contracts deployment, privacy & DeFi.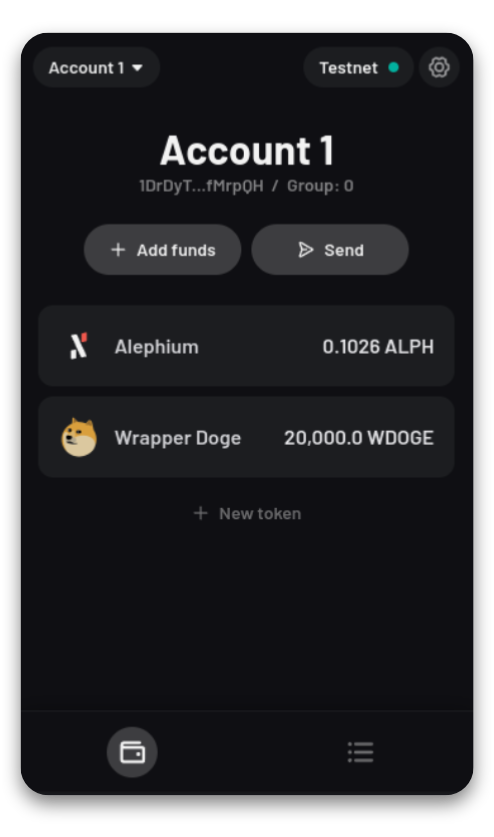 Extension wallet 🌍
The wallet in your browser. Get access to the latest features with a focus on DeFi.
Partners
From lawyers to peer blockchains, lobbying & local associations, they make us feel part of a larger ecosystem.
Backers
They provided us with early backing, funding, strategic advice, introductions, and so much more!
Alphemy Capital
Cetacean Capital

White Paper Capital
Archery Fund
Community projects
Building on top, around, or below what we do, securing the network or providing services, they are the life & blood of Alephium & the reasons we grind every day!
Whitepapers publicly released
02.2019
Desktop wallet & explorer public release
09.2021
1st dApp prototype
01.2022
First exchange listing: Gate.io
12.01.2022
Leman Network Upgrade deployed on the testnet
06.2022
3rd party dApps development started on Alephium
Q3.2022
Leman Network Upgrade on Mainnet
27.03.2023
Desktop Wallet v2.0
05.2023
Core platform
Launch
Mobile wallet (Android and iOS)
Launch
Alephium's Bridge Launch
Launch
Library of dApps prototypes
Community
Introduce AIP for Alephium Improvement Proposals
Improvement
Improved web3 SDK with better DevX and more functionalities
Feature
Multisig support in SDK and wallets
Security
Standard for transaction information display on the wallet
Feature
Smart contracts support in the Explorer
DevX
Better DevX and more functionalities for the Ralph language
Feature
Design and implement light node
Ecosystem
Grants
Launch of the Ambassador program
Grants
Grant program & Development Bounties V2
Community
First Alephium Hackathon
Ecosystem
Integration with 3rd party wallets
Ecosystem
Additional bridges to other ecosystems
Ecosystem
Launch of 3rd party dApps (NFT, DEX, stablecoin, Alephium Name Services, oracle, etc) on Alephium
Marketing
Additional marketing, partnership, and knowledge-sharing initiatives with like-minded communities and projects.
Ecosystem
Ledger wallet integration
SWALPH
Decentralized SWAG 🤘
If you want to wear Alephium's colors, head out to the shop and access a selection of clothes and goodies. You'll find the nicest designs for you to add a bit of sharding and PoLW vibes to your daily routine.
Visit the shop